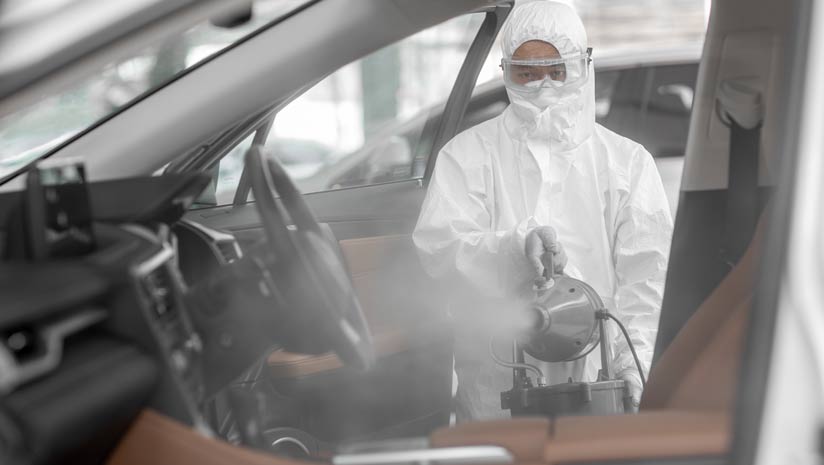 It has been more than a year since the Covid-19 pandemic started causing rampage all over the world. People from all walks of life have been affected by this disaster and life has become difficult. While the genetic engineers and epidemiologists have been able to come up with a vaccine and are working tirelessly to improve it, the best strategy to fight Covid-19 is to avoid it altogether.
Every space that you will be using should be sanitized – whether it is your house or your car. While you might be tempted to do the task yourself, there's something that you should know beforehand. Sanitizing a car is no easy task! There are so many different materials, crevices, and corners that getting everything thoroughly sanitized is almost impossible without special tools and skills. Don't worry though, because we've got you covered.
We have a team of trained professionals who will clean and sanitize your car in the best way possible. Since we use a special cleaning technique called the 360-degree fogging technique, it lowers the risk of the germs surviving in your car even further. We also use a cleaning reagent that forms a protective film that coats all the surfaces and creates an antimicrobial barrier to keep the pathogens away.
Given below are the outstanding features of our car sanitization service:
Bio-Fogging with toxin-free Certified Antiviral disinfectant.
Improve the health of the environment.
Kills 99.9% of harmful germs
Effective Against SARS-CoV-2 (Coronavirus)
Safe, non-toxic, environmentally safe disinfectants
Infection and pathogen control
28-day residual activity against bacteria
Bleach and Chlorine free
Bonds to surfaces for lasting protection
Kills bacteria & inhibits the growth of mould & mildew
Non-corrosive, non-flammable
Given that we and our loved ones spend a lot of time in our car, it is our responsibility to ensure that the car is squeaky clean and free of any germs (including the Covid-19 strain) that can pose a risk to our health or the health of our loved ones.