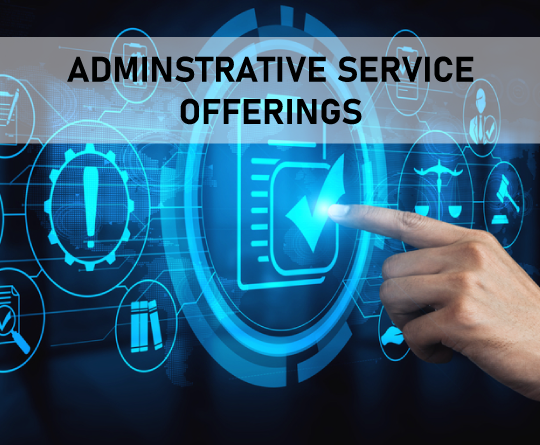 Administrative Service Offerings
An administrative services manager can help your business run more smoothly and efficiently by providing support with scheduling, maintenance, coordination, allocating supplies, hiring and onboarding of new employees, minimising waste and supervising office operations.
An administrative services manager can also help with:
Budget planning – Budget planning lies at the centre of smooth functioning of the company the year round.
Compliance with Government regulations – All businesses are supposed to comply with national and local regulations. Rest assured if we are handling this for you. Be it labour laws, tax compliances, building compliances or any other nature of compliances, we have an expertise for all.
Record keeping – Businesses are mandated to maintain records for a long period of time. We can help you keep it well organised so you find it when you need it.
Supervising payroll – Payroll management can be a cumbersome task for your company every month. We have solutions to make it smooth and least time consuming for you.
Mail distribution- Incoming mails handling is also our forte. Timely and correct delivery to the right person is on us.
Administrative Service Benefits
Some benefits of working with an administrative services manager include having more time to focus on other aspects of running your business and peace of mind knowing that someone is taking care of administrative tasks.
When it comes to administrative services, managers can provide a wide range of options and tailor their offerings to meet your specific needs.
If you're looking for administrative support that can take your business to the next level, consider working with an administrative services manager like Astute Outsourcing Pvt. Ltd. With our help, you'll be able to focus on what you do best and leave the rest to us. Contact us today to know more how we can help you.