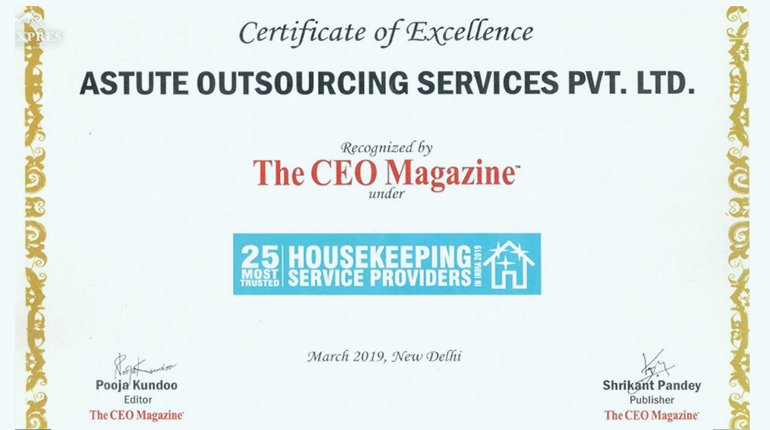 Astute Outsourcing Services Pvt Ltd was featured in The CEO Magazine's list of 25 Most Trusted Housekeeping Service Providers in India.
Astute Outsourcing also received the Certificate of Excellence from The CEO Magazine recently.
In its March issue, The CEO Magazine said: "Astute's scope of services extends to Facility Management, Staffing and Recruitment Services. With its sincere approach of always keeping an ear for heeding to the suggestions of the clients, the agency is ranked among the best outsourcing agencies in India.
"On top of that, it ensures that they work according to the clients' demands and hence, acts as a one-stop agency for all the outsourcing solutions. Astute has a high-quality culture and a learning environment that keeps them thrusting to always aim for the best, resulting in their overall top-notch performance," the magazine said.
"Astute team's strength lies in their hands-on experience with numerous customers from different parts of the world for a considerable period. Astute employs the best and the most relevant hands in a given work and thus providing best works on agreed standards per se is their paramount concern. The team of professionals at Astute are diligent, down-to-earth and ready to serve around the clock," the article pointed out.
"With a dynamic professional career spanning over three decades, Captain Shaji Kumar as a first-generation entrepreneur has extensive hands-on experience in diversified services in Human Resources, IT and Facility Management," according to The CEO Magazine.