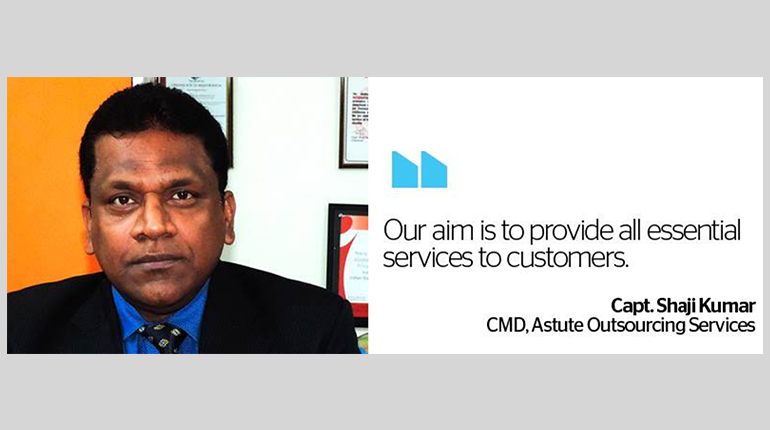 Capt. Shaji Kumar, CMD, Astute Outsourcing Services, talks about the company's integrated facility management solutions for individuals
When you look to hire a car, the most convenient option could be using an app like Uber or Ola. Same is the case when you want to order food from your favourite restaurants. Apps such as Uber Eats or Swiggy would help you deliver the food at home. Similarly, what would be your options if you want the services of a carpenter or electrician for some work at your home? Generally, you have to wait for the convenience of the carpenter or electrician to get the job done.
However, the option of booking the service of a carpenter or electrician through an app or call centre is now available in India as well. "Astute Outsourcing Services – a Chaque Jour Group company – a leading facility management firm in the country has started offering integrated facility management solutions to individuals as well."
Astute, said: "Astute has been into facility management business with corporates. We realised that there is a huge potential to expand our services to individuals as well. There is a need for people to have access to quality and timely services… which is actually lacking in the market. So if we are able to provide that solution to individuals at their residences, it will bring a lot of ease to their lives. It is an open and nascent market.
"Today people are relying only on the street-side plumber or electrician whom they call and he might turn up or even if he turns up it would be at his own convenience. We want to close that gap."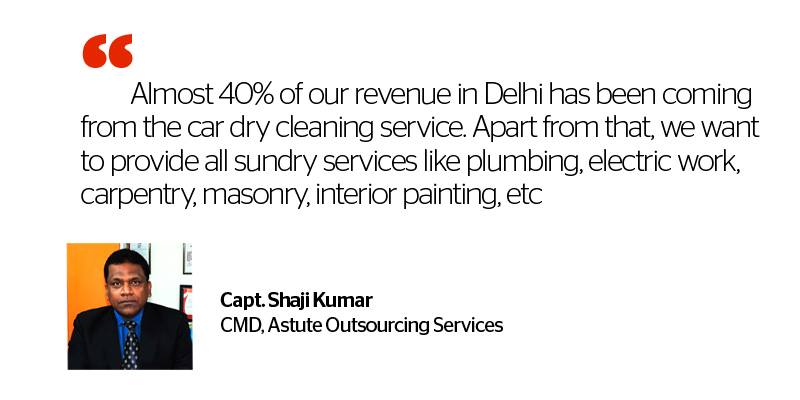 On what the users should do to avail the services of Astute, he said: "If you are looking at some services there are two ways of contacting us. One is through our web-based application where you can put in your request for the services that you require. Second is our online number on which you can call and direct your services."
Elaborating the services being provided by the company, Kumar, who was an officer at the Indian Armed Forces, said: "We are adding to the bouquet of services every day. Our aim is to provide all essential services to customers. For example, if you have some important packet to be delivered somewhere, we will ensure its delivery the same day if you give it to us before 2 pm.
"The concept here is to bringing ease to the life of people. Today people are harried for time. They want to spend more time with their families. They don't want to get into these chores. So we want to take care of all those things at a very marginal price. It is a small cost to pay for the convenience that we have been providing."
He said the company, which has started providing these services in New Delhi, has plans to expand in other major cities as well."We started this as a pilot project in Delhi NCR. It has been quite successful there. Obviously conversion will take time because people will have to get used to this concept.
"The response has been pretty good. We have clocked at least 40 to 50 calls a day. We have a teleservice team as well. Now we are offering these services in Kochi (Kerala) and Mumbai as well. Slowly we want to expand to other cities, especially Tier-I and Tier-II."
When queried about the team's strength, he replied: "The team is flexible and expands according to the demand. We always have the flexibility of adding people, training them and bringing them to the market according to the expansion of the customer base. So there's no fixed limit for the team. If the demand for electricians are more, we would hire them. Similar is the approach for plumbers and other workers.
While talking about the time required for the workers to complete the project, Kumar said: "If you want minor repairs at home, it can be done within 24 hours. But if you want the entire wood work to be done, it will take time. On such occasions, we would send a survey team and after discussing with the customer, a timeline would be fixed.
Asked about the specific services being provided by Astute in Delhi and other places, he said: "We provide all types of house cleaning. We got a very good response from the people to get their houses cleaned especially during the festival season in Delhi. Another service we have been providing is the car dry cleaning. It's being done at a very nominal price with very good quality and we have had a very good response. Almost 40 per cent of our revenue in Delhi has been coming from the car dry cleaning service. Apart from that we want to provide all sundry services like plumbing, electric work, carpentry, masonry, interior painting, etc."