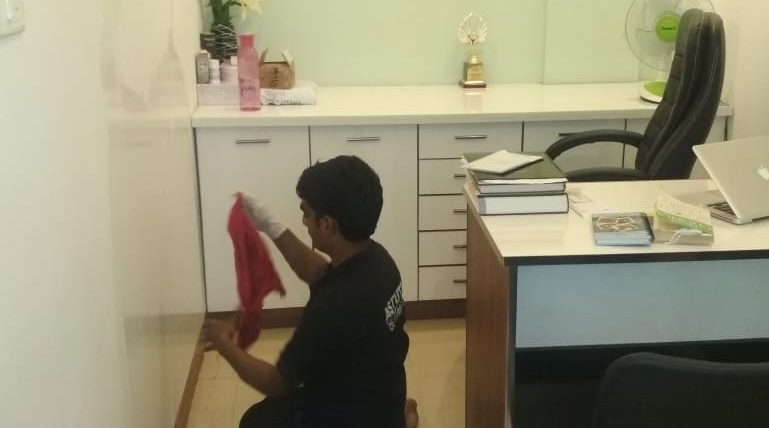 OnTime – Live Easy, an on-demand residential service from Astute Outsourcing Services, has helped change people's perspective about residential services in Kerala's metro city Kochi.
Many residents of Kochi found using the services of OnTime helpful, effective and viable.
The happy customers, who benefited from the services of OnTime at their home, have recommended the effectiveness of the team to their friends.
We are OnTime
Make your life easy with OnTime
OnTime services now in Kochi
An effective OnTime residential service
What's OnTime?
It's an on-demand residential service in Kochi.
Which are the services?
Home deep cleaning, kitchen cleaning, washroom cleaning, sofa cleaning, carpet cleaning, painting services, carpentry work, electrician, pest control, plumber services, car care & dry cleaning etc
How can it be useful?
If you have a hectic schedule, our team can help manage different cleaning activities at your home.
How can I contact?
Call 1800-120-235689
Happy customers hail OnTime residential services
OnTime – Live Easy, an On-demand Residential Service from Astute Outsourcing Services Pvt Ltd, which has completed six months of its operations in Kerala, has introduced several innovative concepts in the state.
OnTime, which started its operations by opening an office in Kochi, has added several customers during the period by providing quality services.
Abikersh Vasanth, who is a film professional in Kochi, said: "We find it difficult to maintain our two-bed apartment in Kochi properly due to our hectic work schedule. Five months ago, one of my friends suggested OnTime and I found a solution immediately for our cleaning woes at home.
"The team of OnTime came to our home and cleaned all rooms, including washroom, kitchen, hall, etc properly. Their charges are also reasonable. Now I am using their services at least twice in a month. I would say I don't have to worry about the headache of cleaning now."
Similar is the experience of Arun S, who is a software engineer. Arun, hailing from Pathanamthitta district, settled in Kochi with his family including a six-year-old son.
"With me and wife working, we find it difficult to manage everything in a proper way. That's the reason why we look for an alternate arrangement in cleaning rooms. Earlier, a domestic help was there but she used to skip duty, providing different excuses. When we found her unreliable, we thought of looking for another option, leading us to OnTime – Live Easy. Since it is a new concept in Kerala, we were a bit sceptical in the beginning but once the team reached our place and started their operations, we found it an excellent option."
Elaborating the advantages of OnTime services, Arun said: "What I like them most is their punctuality and professional attitude. Like their name suggest, they were on time and completed the entire work in the stipulated time. Since we are using their services regularly now, they are giving us competitive packages as well. We are using their services at least once in a month now."
OnTime – Live Easy is an on-demand residential company offering services including home deep cleaning, kitchen cleaning, washroom cleaning, sofa cleaning, carpet cleaning, painting services, carpentry work, electrician, pest control, plumber services and car cleaning.
Another customer Ajay Krishna, who runs an engineering company in Mumbai, said: "I have a house in Pathanapuram. Since I am based in Mumbai, it was difficult for me to maintain my house properly in Kerala. However, I am happy now with the entry of OnTime. They are coming every second Saturday to my home in Kerala and maintain it in perfect condition. The last time when I visited Kerala, I found my home in perfect condition, thanks to the efficient and professional services of OnTime. I would suggest their services to all, especially those who are settled outside Kerala. I think it is an excellent option for NRIs as well."
An OnTime official said: "The response to our services has been really good. We are getting repeated orders from the customers we have served, indicating the success of our services.
"It is an ideal service for people who have a hectic work schedule. When you don't have time to look after various household activities like cleaning your home, OnTime – Live Easy is the ideal choice.
"OnTime – Live Easy has a professional team in Kerala and we can reach your home at your own convenience and finish the required work on time. We also have painters, electricians and plumbers in our team so that you don't have to worry anymore about household works. All you have to do is to call our toll free number and our manager will arrange a team to carry out the required work.
"Please feel free to contact us and our toll-free no is: 1800-120-235689," he added.
OnTime – Live Easy is a brand of Astute Outsourcing Services, one of the top 100 SMEs in India. Astute Outsourcing is the leading Company in Facility Management, Staffing, Recruitment and On-Demand Residential Services in India for the last 20 years.
https://www.facebook.com/OnTimeLiveEasy/