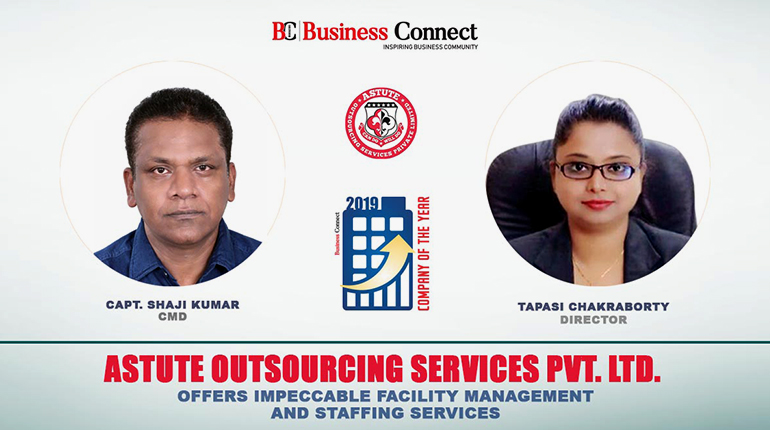 Astute Outsourcing Services has been selected as the Company Of The Year 2019 by leading business magazine Business Connect.
Quality is one differentiating factor that sets them apart from others in the crowd. They believe in providing quality consistently: SLA Driven Approach Dedicated Customer Support Department, Monthly Dash Board, Toll Free Number for Associate Help Desk, Technology – Access on Zenith ERP to Clients, Quality Processes, Open House Activities, Compliance Adherence, FM Piece Rate Value Added Services (shared service concept) and Effective Reliever Management, the magazine pointed out.
Capt. Shaji Kumar, CMD, Astute Outsourcing said, "We can never outgrow and will always have to keep ourselves rooted in the basics. This is the only formula to ensure unbreakable faith of clients in the Company. They should always continue to believe in us, in our intent."
"Market survey also helped us to understand the requirement and increased knowledge base accordingly. To understand our associates, we have conducted Employee Satisfaction Surveys to determine and analyze the gaps. We have regular interface in terms of Open House which is the Reach out Program," said Business Head Tapasi Chakraborty.
Astute Outsourcing is accredited by the government of India as well as the industry. Here is the elongated list of them:
India SME 100 Award – recognition by the MSME, Govt. of India as one of the Top 100 companies in India.
Champions Of Facility Management, 2019, conferred by The Economic Times
Skoch-NSE award for MSME Excellence in 2019
Winning of 2 Govt. Tenders worth INR 560 million.
ISO Certification- For the company in FM business.
Read full report here: https://businessconnectindia.in/company-of-the-year-2019/astute-outsourcing-services-pvt-ltd/?fbclid=IwAR3tq_qLarYa7_H6lAPYlqWXQV4_9D2AX0yAiHi4ypu8PdbTSk1VJsKv_A8